The man who was working a domestic help in neighbors house and became Padmashree by his hardwork & strong will. This Independence Day Sudarshan Patnaik has shared his surviving story & it's truly inspiring!
"I grew up in a very poor household in

Puri

. My father left our family when I was very young. My two brothers and I survived thanks to our grandmother. She earned a modest pension and it was almost impossible for her to sustain an entire family. When I turned 7,

I started working as a domestic help

in a nearby house, so that we could feed ourselves.
As a child, I was always interested in drawing. My fascination grew as I saw kids in my neighbours' home draw rivers and mountains in their books. I wished I could draw the way they did. But I didn't have money to buy a pencil or drawing book. So, whenever I got time from work, I went to a nearby beach and drew in the sand with sticks and stones. Eventually, like every child, I started building small castles and temples in the sand.
I improved over the next five years. Tourists who visited the beach began to praise my work. So, I decided to pursue sand art sincerely and stopped working as a child laborer. I wasn't earning enough anyway, and I figured I'd rather do something for which I was at least appreciated.
However, making money of it was a challenge. Initially people made fun of me and said my sculptures had no value because they aren't permanent. They will either be blow away by the wind or get crushed by the waves. But I thought to myself that life isn't permanent either. Does that mean we should stop living? So, I persisted.
I started participating in competitions and received invitations to exhibit my sculptures in countries around the world. Later, I started to win some international competitions like the World Championship in Berlin. All that helped me earn some amount of recognition.
But after a while I realized that it wasn't enough to just create a beautiful sculpture. With enough practice, anybody in the world can make a great sculpture or paint a beautiful painting. But a true artist should spread a message through his work. So, I consciously decided to make sculptures based on issues that we face as a society, and on current topics.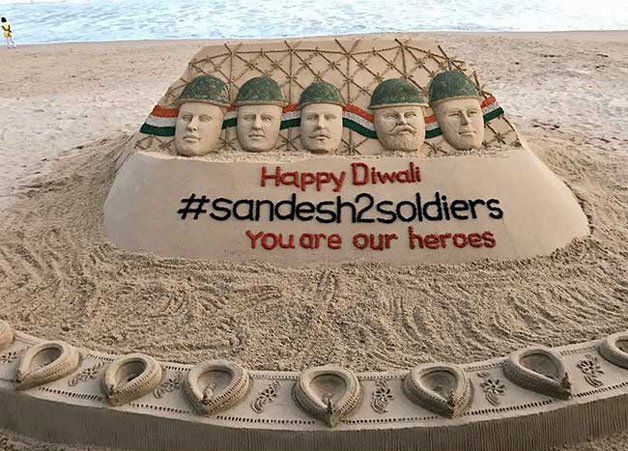 Incidentally, that's when people started showering me with their love. It was so heartening. And that love that people throw my way every day is what I cherish most. I had never imagined I'd receive so much respect.
And I want this to be a message to all the youngsters who are struggling because of lack of money or education. I urge them to not lose hope. If someone like me, who didn't have any education at all, can be honoured with a Doctorate or a Padma Shri, then anyone can! A degree doesn't determine your future. Just believe in your potential and talent, and you will make yourself proud one day!"