The recent recognition of Samar Pratap, Odisha's youngest entrepreneur, in the prestigious Fortune 40 Under 40 list has brought to light to his remarkable achievement.
It not only highlights his individual success but also carries the potential to open doors of appreciation for other young entrepreneurs in Odisha. This article delves into the significance of this recognition and explores the broader context of how often we, as Odias, fail to appreciate and recognize our young entrepreneurs. This is a disheartening reality: the lack of appreciation and recognition for the entrepreneurial talent that thrives within the state.
An alumnus of IIM Ahmedabad, Samar's inclusion in the esteemed Fortune 40 Under 40 list is a remarkable milestone not only for him but also for the entire entrepreneurial ecosystem in Odisha. This recognition on a global platform brings attention to the untapped potential of young entrepreneurs within the state. It serves as a catalyst for change, potentially shifting the narrative and opening doors of appreciation for young minds. His company Olive Ridley Media has already raised nearly 1 Million USD in the very first round of funding.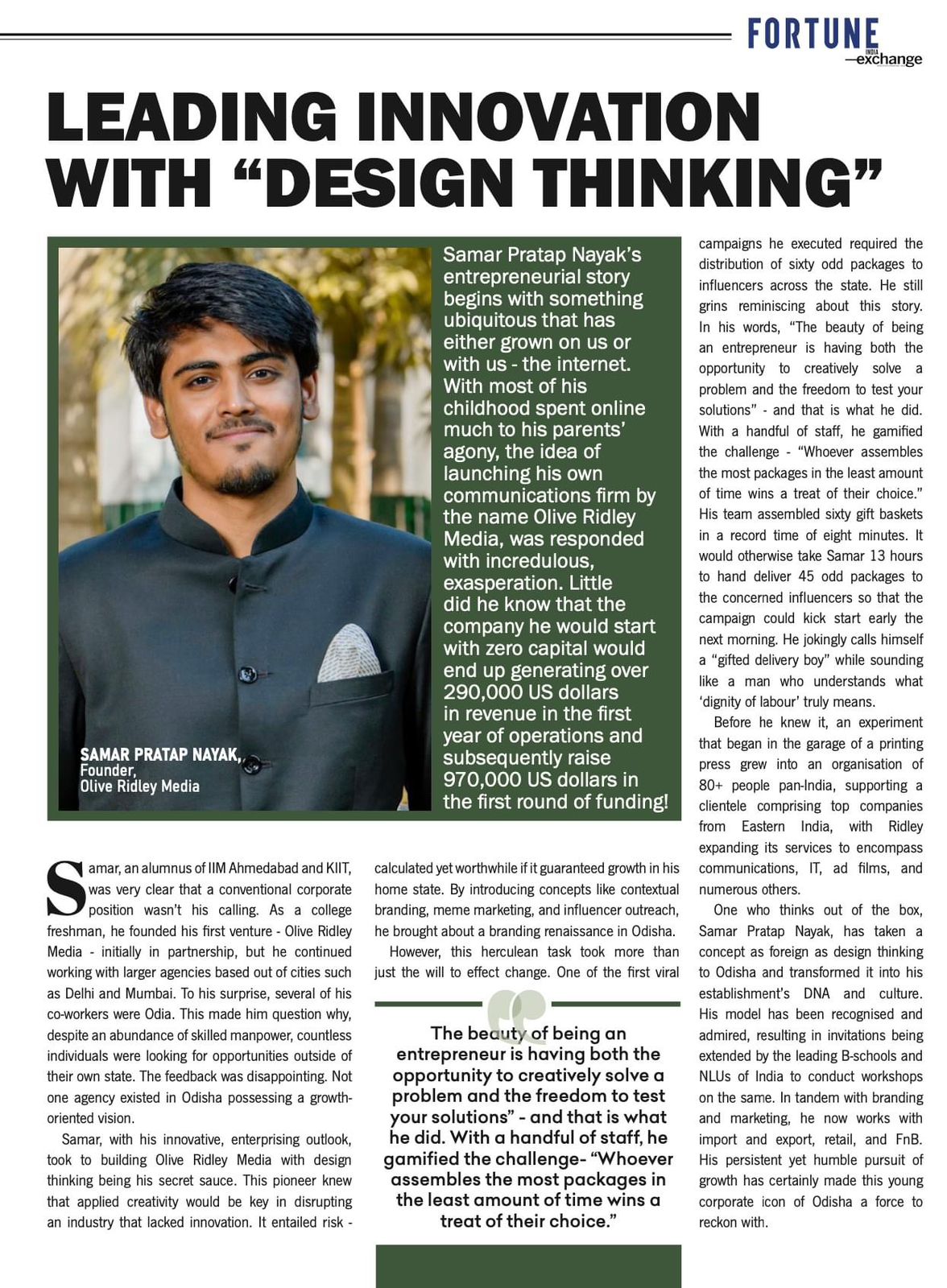 From humble beginnings in a garage, this company blossomed from a printing press into a powerhouse, attracting clients across IT, AD Films, and Corporates. Witnessing their incredible growth is truly awe-inspiring!
Speaking about the feeling after being featured in the magazine, Samar in an interview said, "Happiness apart, as an Odia, it gives me a sense of victory. I can now see the stereotype associated with us slowly fading away. When we closed down our office in Bengaluru to move to Odisha, we faced resistance from friends and colleagues. Reasons were many; from not-so-skilled manpower to not enough business opportunities to grow. But I had made up my mind to change that perception and not only set up my business in Odisha but grow too. The validation that Fortune India has provided me is a testament to the changing perception of Odisha. I feel victorious to have done so."
When deserving individuals receive acknowledgment for their efforts, it not only boosts their morale but also inspires others to pursue their entrepreneurial aspirations. Unfortunately, Odisha's untapped entrepreneurial potential remains stifled due to a lack of conducive ecosystem for growth and recognition. And now it's time to cultivate an environment that fosters and applauds the innovative spirit within the state.
Samar's accomplishment provides a unique opportunity for Odisha to redefine its approach towards young entrepreneurs. This involves creating mentorship programs, establishing more incubation centers, and facilitating more access to funding and resources. By fostering an environment that appreciates and empowers young entrepreneurs, Odisha can unlock its untapped potential and contribute to its overall growth and development.