In a shocking and unprecedented way, for the first time in the 92-year history of the Scripps National Spelling Bee, the dictionary has lost to the kids as the competition named 8 co-champions.
You heard that right! Eight co-champions in the final of Spelling Bee.
The tournament which started with 562 best spellers from all over the United States, and after 20rounds and 47 correct answers the competition ended.
The panel ran out of words, forcing them to call it and leaving an unprecedented eight-way tie for the trophy.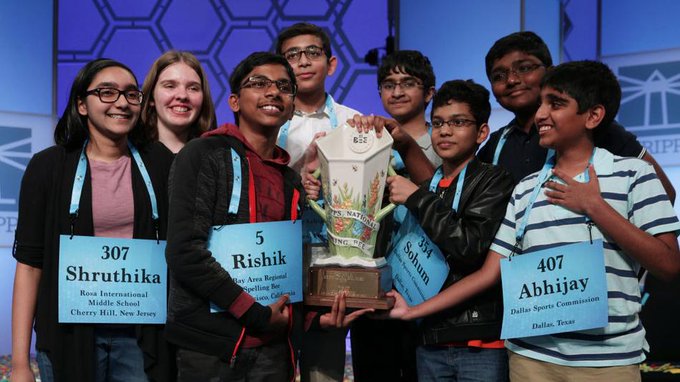 What's shocking and surprising is that out of 8 winners, 7 are of Indian origin. And one of them is Odia girl Shruthika Padhy. Shruthika's parents, Umashankar Padhy and Sujata Sabat, are from Odisha. His father is a graduate from UCE Burla Sambalpur in Electrical Engineering.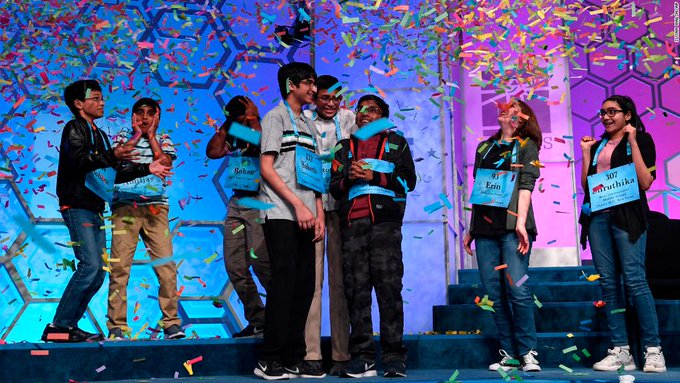 Shrutika Padhy just broke the shortest-held record in the history of the Bee, becoming our 4th Co-Champion by acing the word "aiguillette."
Here are some of the best tweets after this shocking announcement of winners at US Spelling Bee.
The "octochamps" of the this year's Scripps National Spelling Bee make H-I-S-T-O-R-Y https://t.co/LX6r8cj4u7 pic.twitter.com/Auyuj3rldT

— CNET (@CNET) June 1, 2019
There cannot be 8 Spelling Bee champions next year. This is a fantastic solution for quick elimination next year 👇👇 https://t.co/RLoZ7NiWKM

— Darren Rovell (@darrenrovell) June 1, 2019
With an unprecedented 8 co-champions, are spellers just too good for National Spelling Bee? https://t.co/TaqYGRde9h

— Dallas Morning News (@dallasnews) June 1, 2019
My #SpellingBee thoughts:

1. We could've been there until 3am with multiple spellers.

2. They beat the dictionary. That was their opponent. Not the other spellers. They deserve to win.

3. We finished w/5 consecutive perfect rounds.

4. Easily, my favorite night at @espn

— Matt Barrie (@MattBarrie) May 31, 2019
Honestly I am usually not for ties or giving everyone a trophy but I accidently watched the last 2 rounds ( ABC kept saying Sports center was on after the Finals) and it was thrilling. When it got to last round I wanted all the kids to win. They looked so mentally tired .

— Shawn Paul (@pizzol) June 1, 2019
All the 8 winners made history as the first group to share the coveted title in the 92 years of the storied event.