World's biggest space agency Nasa [National Aeronautics and Space Administration] has tweeted before and after pictures of Odisha's coastal cities like Bhubaneswar and Cuttack on its official handle yesterday.
Currently, the twin city and Puri is going through power cutoffs and is in dark since the last 5days.
Cyclone Fani has not only damaged the commercial spaces and residential houses but also many energy infrastructures leaving millions of people without electricity and water.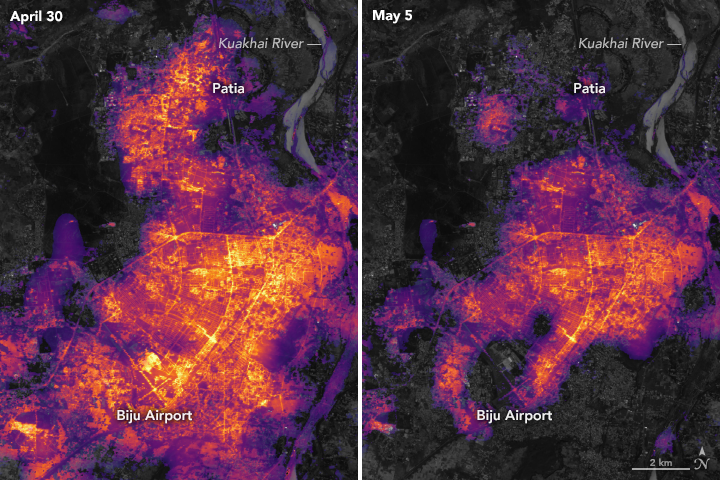 Looking at the above picture, we can easily imagine the conditions of those people who live without electricity. And the area is so huge that it's even
noticeable miles away from the earth and got captured from space.
Nasa's official website earthobservatory stated that "The storm destroyed several transmission towers and uprooted as many as 156,000 utility poles that must re-installed."
Power outages in #Bhubaneswar and #Cuttack after Cyclone #Fani. https://t.co/X7A9NYDsGi #NASA #India pic.twitter.com/fA4raahpyb

— NASA Earth (@NASAEarth) May 8, 2019
Right now the electricity restored only in few areas of Bhubaneswar and Puri.
With the help of VIIRS technology which has a day-night band, Nasa prepared the images to show the power outages.
NASA Earth Observatory images are taken by Lauren Dauphin, using Black Marble data courtesy of Ranjay Shrestha/NASA Goddard Space Flight Center and Landsat data from the U.S. Geological Survey.