Women today are occupying both space and position, breaking the wall of this male dominating country.
Though women are still being pushed into the four walls of households but they aren't losing the hope to break all the shackles and fly away. Today there is no occupation left where the women aren't showing their visibility. Harshini Kanhekar is one such example who jiggled the 46 years history of the NFSC's (National Fire Service College), Nagpur.  She is the first Indian women firefighter.
'The happiest moment of her life when she passed the entrance exam of NFSC but wasn't aware that she was going to be surrounded by a troop of men. There wasn't any history of girl studying in that college since its birth.'
But when she walk down the lane into the college, she didn't get any sign of a girl but this didn't shook her desire of reading in this institute. She said "All I could see was this beautiful red building. And in that moment I dreamt of getting an admission to this college."
But when she entered to administration department she was advice not to take admission and to apply where the women students get facilities. But this strengthened her desire more and determined her to change this norm. And soon her hard work shown its visibility in the Union Public Service Commission-styled entrance exam. When she was appearing the medical test, the doctors said "Beta, it's a grueling course. Are you sure you will be able to do it?"
While confronting the intimidating panel she was addressed as the Kiran Bedi of the fire service. "I was delighted, but I didn't let it get to my head. Besides somebody would always push me to the top while someone else pulled me down." She entered the college but the war wasn't over yet. There was a sack of challenges of waiting for her.
"I would never turn up late, I wouldn't be weakling during drill and parades. I knew, if I turned up late, people will start generalizing that all girls are the same. I was the guinea pig, the parameter by which the girl to come after me would be judged," she sated.
And she became a gossip topic around the college campus, "Every time I walked around the building, people kept reminding me of 'how I was the first girl to climb the stairs of the institute or the first girl to enter the director's cabin,' I was under constant watch."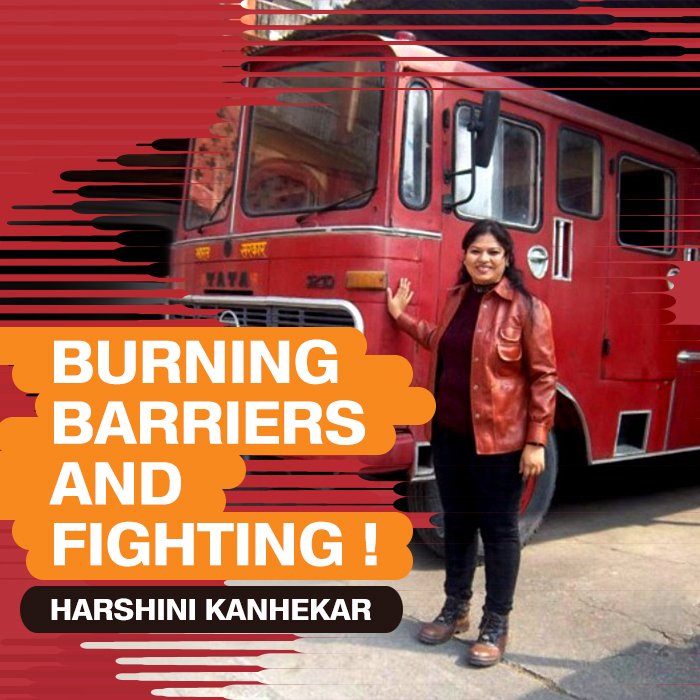 "Dealing with heavy water hoses, suction hoses, and mock drills with dummies, the course was difficult for everybody, gender no bar. I didn't want to fall weak. So I'd go early and practice all by myself in the store room. Then, I could walk with my head held high and nobody would mock me," she said.
Being a firefighter wasn't easy for her but she stood strong and faced all the challenges to fulfill her desire. In 2005, during Diwali she attended six most difficult fire cases.
"A shoe factory at Shastri Nagar in Delhi caught fire. A rocket entered the shop located on the upper floor of the building and sparked a fire in shoe boxes containing combustible material. The fire was so huge, the building started cracking. We climbed the opposite building and tried dousing the fire, but it did not work. We broke a wall in the adjacent building to fight the fire, but the smoke kept rising. We put our lives at stake by climbing the cracked building. After a 6-hour long operation from midnight to morning, we successfully got things under control," she shares.
And in the next following year, she joined the Mehsana fire station in Gujarat, the second largest onshore production of oil and Natural gas Corporation.
Harshini's success story is a great example for everybody who is looking to do what no one ever has.