MeToo-It is not started with Tanushree Dutta's accusation on Nana Patekar. The movement in India started by the nuns against the bishops but in the middle of all these noises, they have been completely sidelined. And now it becomes a storm where every day many celebrities and normal women are coming up with their version of #MeToo stories.
But how many of them are true, can you really question the authenticity on that? Maybe yes or maybe NO!
Raising question on any of these issues might put a label on you and the campaign which has started with an intention of bringing justice to the women who are sexually exploited is questionable, going into a different direction!
As MeToo movement explodes & sexual predators are being called out, we stand by these women but at the same time, we must say that media trial on basis of accusations on social media should not be the criteria to judge a person. Times is up for women to speak without fear and time is up for everyone to take it seriously that how #MeToo campaign can be misguided and can be misutilized to settle up personal differences or to take revenge.
The big names like Tanmay Bhat from All India Bakchod has already 'steps away' as CEO of the company after allegations against one of their employees, Director Vikash Bahl, Singer Kailash Kher, Union Minister MJ Khan, Alok Nath and many such names are already on public platforms and all are accused of sexual harassment.
While every case should be investigated, how many of them are true and who will decide that? Of course the court, then why this media trial before lodging a complaint? The question which most of the people started asking!
I support #metoo movement. I request all female to be bold and tell the truth. But please do not misuse this great movement. #TimeToAct pic.twitter.com/7zLaQM8mDo

— Mansi Shah Vyas (@MansiShahVyas) October 10, 2018
The Indian movement is reducing to a different level & you can't even raise a question on the authenticity of every allegations.

Chances of getting justice by going to police station & lodge an FIR is more than coming to twitter to paste the screenshot with #MeToo.

— MJ Soum (@Areylocaltoka) October 10, 2018
I'm hearing that many innocent men are being victimised in the whole #MeToo movement to settle personal scores. PLEASE DONT let it become that. For the sake of all the brave women who have been courageous enough speak up. We cant let their effort n fight get diluted.

— SONAL CHAUHAN (@sonalchauhan7) October 10, 2018
May I point out the obvious to people who are politicising #metoo ? MJ Akbar was a sexual predator when he was in the Congress. And he's still a sexual predator when he is in the BJP. He's been at it since the 1980s.

— Priya Ramani (@priyaramani) October 10, 2018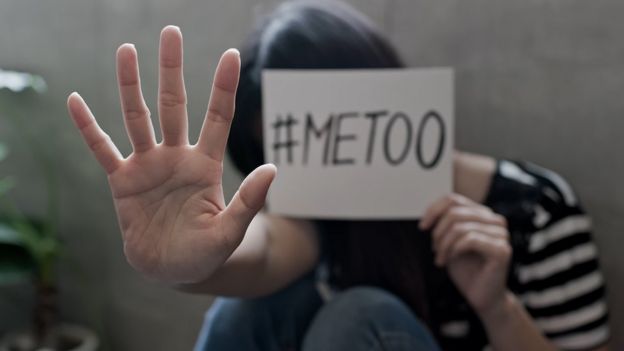 The Indian movement of #MeToo is reducing to a different level. But the question is still unanswered that why not registering a police case and then come to media?
Even NCW Chief Rekha Sharma also said that 'Most of the women I can say go through these things & when they don't complain these predators get a reason to do more harassment to other women. I would like to send a message to all girls & women that anything happens to them they should report to the police.'
Is it the new PANIC BUTTON in every industry, be it Media, Politics or Bollywood!