In a shocking and major move, Odisha has added another feather in its sports cap by bringing India's one of the leading Football club Delhi Dynamos to Bhubaneswar. Which will be known as Odisha Football Club [Odisha FC] from now onwards.
Around 134 days since this story was released and discarded as a rumour. But now this rumour has become official and this big move of Delhi club owners has shocked their fans who feel cheated and discarded.
So Yes! Delhi's new home is now Odisha. The management has adopted Kalinga stadium as their base, after playing the ISL for five years from the iconic Jawaharlal Nehru Stadium, New Delhi.
"It hurts for me to move Delhi Dynamos FC away from the city of Delhi, but certain hard decisions had to be taken. I had a vision for the development of football in the country. And my vision has always made me strive for better. I feel the state of Odisha shares the same vision with me. As difficult as it was for me to take the call, I am immensely happy to say that the Government of Odisha is equally committed and determined to create an environment of sporting excellence in the state."

Speaking on the decision of moving the club, owner of the franchise and the President and founding CEO of GMS Leadership, Dr Anil Sharma said.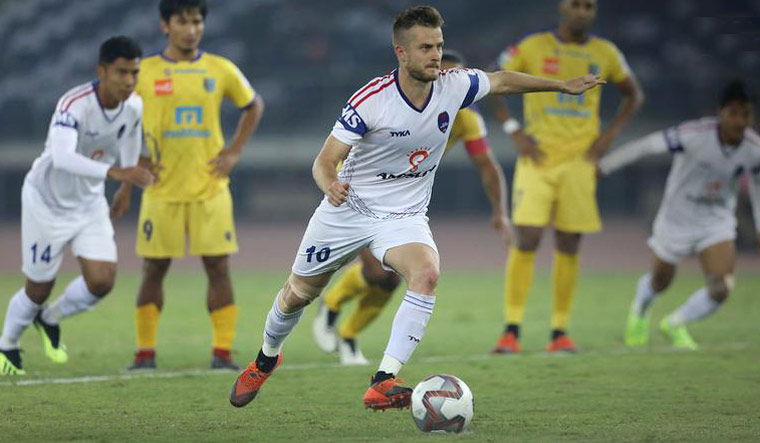 Shocking For Delhi Fans
As people in Odisha started celebrating the big announcement, the hardcore Delhi Dynamos fans are feeling cheated as the owners didn't even address the fans before signing an agreement with the Odisha govt.
The announcement came late night hours after getting into an agreement with Odisha.
Though the actual reason for rebranding Delhi to Odisha is the less number of Delhi fans in their home games and lack of support from the capital. But those who were the true supporters are feeling sad and shocking.
Here are some of the reactions from the heartbroken fans of Delhi.
Okay @DelhiDynamos, we know it's over now. You didn't even care to tell us before and your Director kept fooling all of us until the last moment. Can we now please expect a parting away statement from you? Or will that be too much to ask for?

— Hemang (@SirSchweini) August 31, 2019
Really feel bad for the @DelhiDynamos fans. They must be feeling abandoned. I hope everyone realises the value of having a club, the need to support it at all times and that it's not to be taken for granted even when you're not in the league overlords want to kill #indianfootball

— Chiranjit Ojha (@ChiranjitOjha) August 31, 2019
After all those denials. After every time that @MrRohanSharma scoffed and laughed at those "rumours", turns out they weren't rumours at all. Also, I will say this – a celebration for killing off an existing club is lowly. You've got blood on your hands, @DelhiDynamos. https://t.co/mDMZCiHqZ6

— Aaditya Narayan (@Aaditya_LFC) August 30, 2019
It's such a shame that we football loving North Indians don't have any club to support in top division. Shame on AIFF, FSDL you guys are doing more harm than betterment of #IndianFootball #ISL. @DelhiDynamos @dynamosfans

— MrRana (@PrinceRana) August 31, 2019
REST IN PEACE @DelhiDynamos 🙏😢 pic.twitter.com/A8N8uwcSHw

— Shivam Kashyap (@shivamic17) August 31, 2019
It's hard to say goodbye to the club that has given you lots of memories 💔 it's hard to say goodbye to the club that has given me family like @dynamos_ultras
It's hard to say goodbye to dreams
Dreams of becoming champions
It's hard to say good bye to @DelhiDynamos 💔

— Prajwal thapa (@prajwaligt6) August 31, 2019
Let's hope the same fate won't be repeated and Odisha fans will welcome Football with open hearts.