VG Siddhartha, founder of one of the well-known brand of India CCD-Cafe Coffee Day has gone missing since last two days. He is the son-in-law of former Karnataka Chief Minister SM Krishna.
While we're making this report, the Coffee Day Enterprises Limited has shot a letter to the National Stock Exchanges of India Ltd with updates on founder VG Siddhartha's missing case: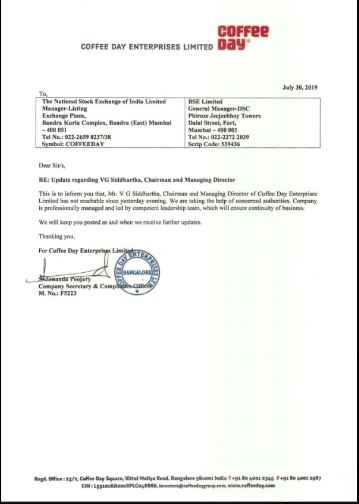 Now a letter to the board of directors and CCD employees has surfaced on social media. In the said letter VG Siddharta has apologized for his failure as a leader and mentioned that he tried everything to make CCD a profitable business model but failed.
"After 37 years, with strong commitment to hard work, having directly created 30,000 jobs in our companies and their subsidiaries,a s well as another 20,000 jobbs in technology company where I have been a large shareholder since its founding. I have failed to create the right profitable business model despite my best efforts."

VG Siddharta on his letter
In the meanwhile, Karnataka govt has started a search operation near Netravathi bridge area near Mangalore, from where he got off his car. Deputy Commissioner of Dakshin Kannada, Shreekanth Sentil, said, "We are trying to cover all angles. Our focus is on the search and rescue operation. We have eight teams scoring the river land with NDRF."
Cafe Coffee Day was considered a huge success story in last 20 yrs. But suddenly,its owner and founder Sidharth is saying today that he failed as entrepreneur.He is missing.
What failed him eventually?
Economic policy?Market forces?or Consumer behaviour?
Or recession has arrived? pic.twitter.com/vCduZX2L5j

— Sanjay Nirupam (@sanjaynirupam) July 30, 2019
Further on his letter, Siddhartha added that "I would like to say I gave it all, I am very sorry to let down all the people that put their trust in me. I fought for a long time but today I gave up as I could not take any more pressure from one of the private equity partners forcing me to buy back shares, a transaction I had partially completed six months ago by borrowing a large sum of money from a friend.
There was a lot of harassment from the previous DG income tax in the form of attaching our shares on two separate occasions to block our Mindtree deal and then taking the position of our Coffee Day shares, although the revised returns have been filed by us."
Sad morning. Shocking to read the letter of #Cafecoffeeday #Siddhartha on the financial mess he is in/created. Clear warning to many in business, especially in film industry on the need to have a check on their borrowings, including me. Hope he can come back. Prayers 🙏🙏🙏 pic.twitter.com/X5azJSFUfv

— Dr. Dhananjayan BOFTA (@Dhananjayang) July 30, 2019
Bengaluru: Former Karnataka CM, HD Kumaraswamy visits residence of former union minister SM Krishna. His son-in-law, VG Siddhartha has been missing from Mangaluru. pic.twitter.com/SZUhskm6SE

— ANI (@ANI) July 30, 2019
BJP MLA Suresh Kumar and Congress MLA NA Harris, former CM HD Kumarswamy have reached SM Krishna's residence in Bengaluru.