Political parties can stoop to any low to get attention. Because for them, politics comes first before country & its martyr soldiers. Unfortunately, it is the ruling party BJD which is again in news for their disrespectful & shameful act.
When the nation mourns and pays rich tributes to the Odisha braveheart, the efforts to make a BJD brand building stoops to an all-time low.
While bringing his body to his hometown Dhenkanal, some people put the BJD party flag above the Indian flag on martyr Ajit Sahoo's coffin for social media photo-op.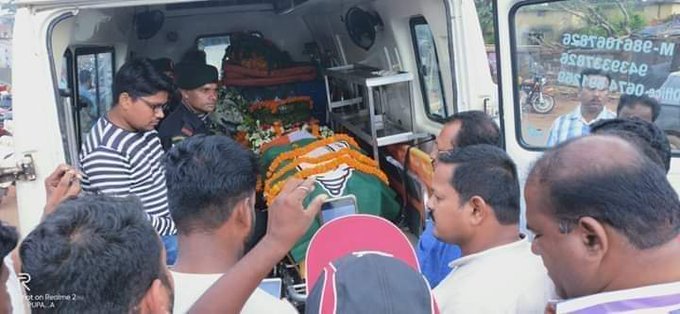 The incident triggers extreme outrage of people & they are clearly not happy about it and calls out Naveen Patnaik to address this disrespect act and to take strong action against the people involved in this.
Instead of #TriRanga Flag, @bjd_odisha party flag on martyr soldier #AjitSahoo body, Such a #Shameful thing that we are seeing in our #Odisha. I request to Hon'ble @Naveen_Odisha and @CMO_Odisha do not politicize everything. Make a legal action on whoever has done this.

— Sunil Kumar Dash (@TheSunilDash) June 21, 2019
Instade of #TriRanga Flag, @bjd_odisha party flag on martyr solder #AjitSahoo body, Such a #Shameful thing that we seeing in our #Odisha .

Request @Naveen_Odisha sir, please dont do politics on our #Solders sacrifice@adgpi @jyotsnadevi33 @rajnathsingh @CMO_Odisha @tankadharsng pic.twitter.com/s46X89MgNE

— Amitabh Mohanty (Indian) (@AmitabhMohanty9) June 20, 2019
@bjd_odisha party flag on martyr #AjitSahoo . @BJD Odisha to stop politicising the sacrifices of Indian soldiers. This is cheap and highly condemnable.

Request @adgpi to take action . pic.twitter.com/e3SICbsvaE

— Nahush Mohanty (@MajorNahush) June 21, 2019
କିଏ କହିଲା ଆମେ ଭୁଲ କରିଛୁ,ସେଦିନ ତଣ୍ଟିଆ ମାରିଥିଲୁ ଆଜି ପତାକା ଘୋଡ଼େଇଲୁ, ଉନ୍ନତି ତ କରିଛୁ 🤭🤭🤭@narendramodi @PandaJay @AshBiswal @DrLekhaShree @DKP37 @Sujata_Padhy @sambitswaraj @pinkyp_actor @dpradhanbjp @santiswarupa @SatpathyLive @AprajitaSarangi @nidhi_budha #AjitSahoo pic.twitter.com/1YZSgu5sOq

— Boudhayana ଚଗଲା ଭଣଜା (@Boudhayanaa1) June 21, 2019
Ajit Sahoo lost his life in an IED blast, protecting the country at Pulwama district of Jammu & Kashmir.
It's not the first time the party workers or the leaders are in news for such disrespectful behaviour to the martyr. Back in February 2019, BJD MLA Debasish Samantray was in the national news for insulting martyrs family during his last rites. Even Pakistani news channels have aired the news.