Almost a year long protest and campaign against govt.s decision of adding GST on sanitary napkins finally ended up. India scraps tax on sanitary pads to boost the girls education.
Bleeding between your legs every month is no longer considered a luxury and girls are happy that govt. understood that pads are not luxury but a compulsory necessitiy. This will ensure menstrual hygiene amongst a large no.of women in India and specially those who lives in the rural and remote areas.
Earlier in January this year, a group of students from Gwalior launched a campaign to drive the point home. The students sent sanitary napkins with the message written on them to Prime Minister Narendra Modi and urged him to exempt the taxes levied on the product and make it free of cost.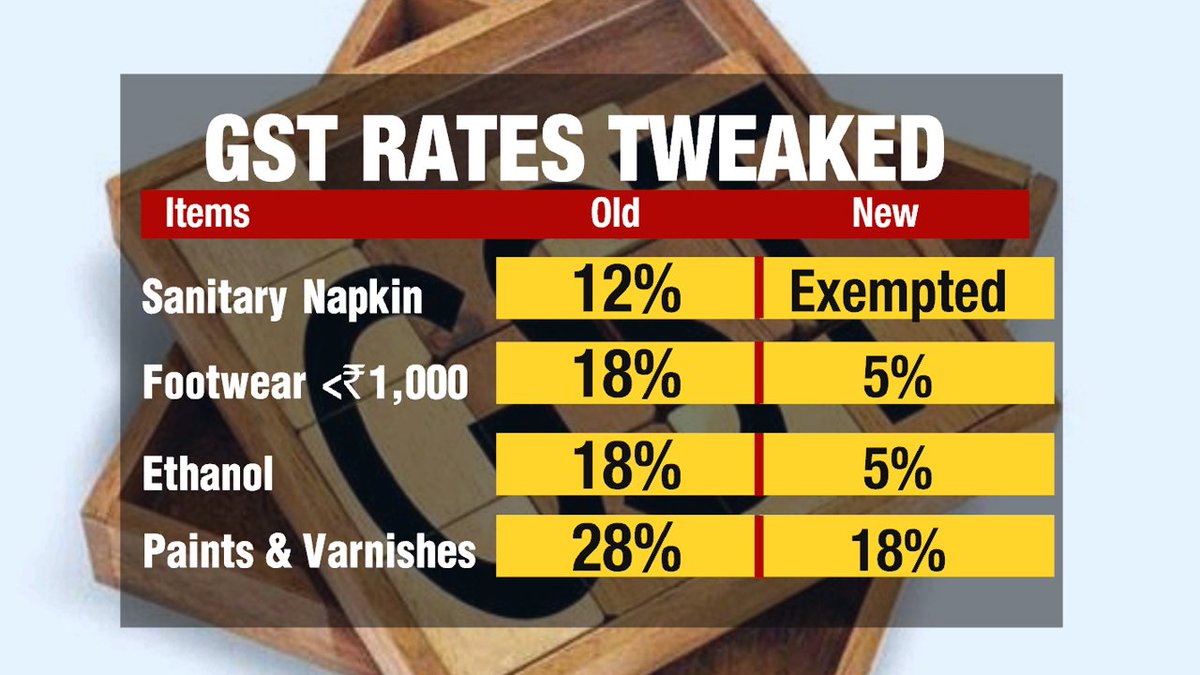 But still the question remains, "Will no GST on Sanitary Napkins really make it affordable for women? A pack of 10 costs Rs 80-90. Can a difference of 8-10 Rs make it affordable for women in lower income brackets? Or do we need a more informed approach towards menstrual hygiene"- asked twitterati Rashmi Singh.
While most of the people are appreciating such step, social media get's a very mixed reaction on the decision.
Let's check out.
Great optics to remove GST on #SanitaryNapkins just before elections, but without input credit, the reduction in the MRP will be pretty minimal.

— Gabbbar (@GabbbarSingh) July 21, 2018
why was #SanitaryNapkins taxed in the first place!

You do something stupid, rectify it and want to take credit for rectifying it?#GSTCouncilMeet https://t.co/S46HmDDhKf

— Main Hoon Na (@neo_pac) July 21, 2018
Finally!!! 💁🏻Big shoutout to @akshaykumar for getting people to talk about it. And to wonderful women like Faye who kept the movement alive.! #NotALuxury #GSTCouncilMeet #SanitaryNapkins https://t.co/NdtKnLjzXV

— Vaishali Kothiyal (@vaishali2907) July 21, 2018
I welcome this step. Thank you sir @narendramodi @PiyushGoyal #ThankYouModi #SanitaryNapkins #GSTFreeSanitaryNapkins pic.twitter.com/7AAvW19ili

— Aarohi Tripathy 🇮🇳 (@aarohi_vns) July 22, 2018
Can finally bleed without bleeding my wallet💃 #Sanitarynapkins #GST #gstfreebleeding

— Lakshmi Menon (@lakshmi2794) July 21, 2018
#SanitaryNapkins exempted from the GST. Good decision by the Govt. but I'm intrigued as to why it took a year to repeal what was an unanimous appeal!

— Mishal Raheja (@mishalraheja) July 22, 2018
Let us know your reaction on the decision!